How To Entice Customers To Download Your Restaurant's App
Shanelle | April 21, 2020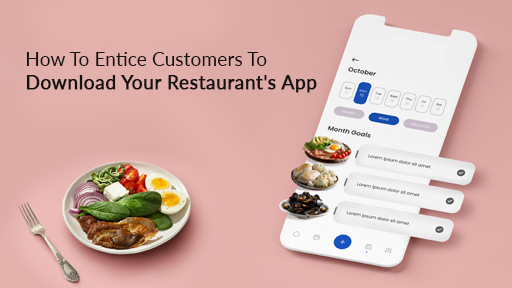 In the modern-day and age we're living in, it's pretty safe to assume that for any idea, service or product you may think of--there's probably an app for that. No, seriously. There are over 2.2 million apps in the Apple App store alone and roughly 2.8 million apps in the Google Play Store as well. Explicitly designed to run on any mobile device (iPhone, Blackberry, Android, etc.), tablet or watch--mobile apps have become increasingly popular over the last decade. With more and more businesses looking to seamlessly connect with their customers while also providing a more efficient way to streamline their most common processes. While pros may seem obvious to most business and restaurant owners, some consumers have yet to hop on board and utilize the many benefits that come with downloading their favorite eateries' app.
The good news is if you're looking to entice them to do so--here's the number one tip that may be able to turn the tide. Giving your customers something to look forward to in exchange for downloading your app--aka incentivizing them is a surefire way to see your downloads increase. Things like free products, discounts, exclusive privileges, and customer loyalty/rewards points-based systems are just a handful of things you can offer to let customers know you want to keep their business. Let's look at a couple of examples.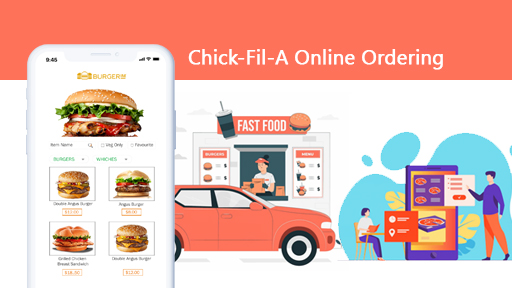 The Chick-Fil-A app offers customers a variety of in-app benefits for its customers that keeps making them want to use it more and more. Some of those include being eligible for a free product after so many in-app meal purchases, for example, waffle fries or a chocolate cookie. Additionally, the ability to "skip" the long drive-thru line by ordering ahead and tapping an "I'm Here" button to grab their order and go. In other words, the ability to customize your meal (think gluten-free bun or special ingredients left off), and perhaps best of all--it saves your orders as you "Favorites" so you can go in and select your meal quickly and efficiently.
The Starbucks app is a top favorite for coffee lovers all over the world. With an estimated 16.8 million users globally, they're leading the pack--particularly when it comes to customer rewards points systems. Mostly, with every dollar you spend at Starbucks, customers earn "stars." The more stars you get, the closer customers inch to things like free coffee, free tea and coffee refills in-store, exclusive offers and order personalizations, and complimentary add-ons to their order. To learn more about how their star rewards system works, click here.
We'd be negligent if we didn't talk about one of the number one fast-food chains worldwide. McDonald's offers its app users a sort of punch card that tracks each time the user visits. Similar to the Starbucks star point system, after so many punches, customers are then eligible to receive a free drink, burger, etc. However, unlike some other fast food apps, McDonald's offers its customers nutritional breakdown for their food and is compatible with most weight loss apps--which helps when it comes to specific dietary plans and strategies. To learn more about their app, click here.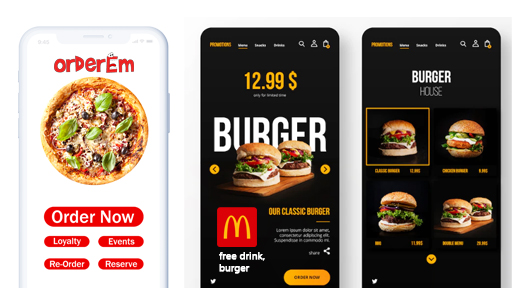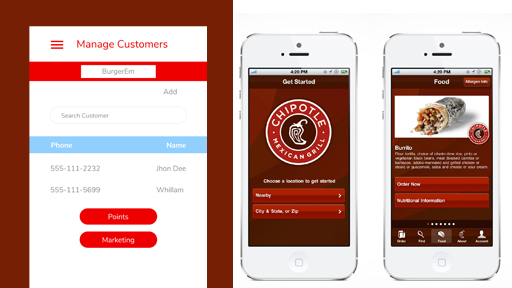 The Chipotle app is another fantastic app that rewards customers with points for every dollar spent. In addition to that, they also offer double and triple point days and newly added "Guac Mode" which offers an exclusive benefit that will unlock access to free guac rewards, and other extras for its existing users. New users, however, will only have a limited amount of time to sign up and join the Guac Mode feature. One of the significant benefits also includes being eligible to receive a reward for one free topping or side of guacamole with the purchase of a regular-priced entrée. To learn more about their app, click here.
Wrapping It Up
As you can see, there are numerous, yet tried and true ways to entice your customers to download your restaurant's app. Things like discounts, customer loyalty/rewards points-based systems, free products, and special privileges are just a handful of things you can implement NOW to see your downloads increase. Don't have an app or need help setting up? OrderEm has the tools and resources necessary to get you started and on your way to fulfilling your mobile orders with ease and efficiency. Click here to find out more about how we can help!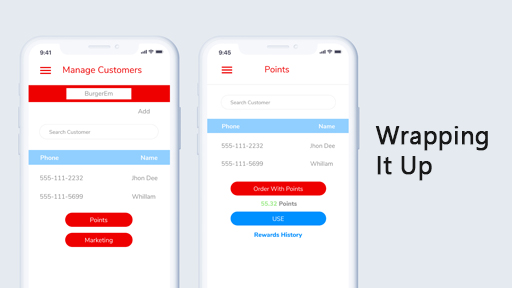 OrderEm offers all the technology products you need to compete in today's online and mobile economy. With more and more people interacting online, word of mouth spreads faster than ever before-- and you need to be in the conversation. With our Custom App option, you can easily choose a design, make it your own and have it ready to launch within days. And with our mobile ordering systems, we make it easier for customers to skip the line by ordering ahead and restaurant owners to receive orders through fax, text, on any mobile device. 
We offer:
Flexible Payment

Options

The Ability to Manage Multiple Locations

Custom Apps with ability to do

Push Notifications

Customer Loyalty Program Setup and manage

In-App Only Offerings
Here's a quick run-down on How To Set Up Your Own App through our Systems
Go to

OrderEm.com

Sign-In with your provided username and password.

Click on your Business name which is in left side tree structure and go to My Mobile App option to click on that to view their options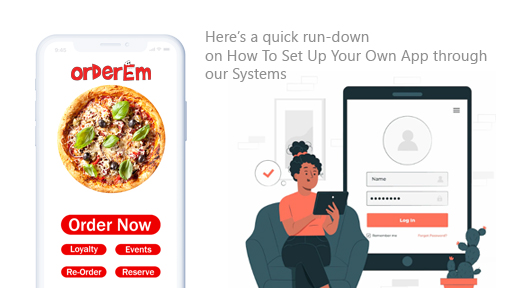 Click on App details option should display as below like screen.
1. Give your app the name you want, this will be the name displayed in the app store.
2. Input your restaurant's description, this will be seen by users in the app store as well. (If you want to provide a restaurant tagline, that will display on the homepage of your app.)
3. The app progress will indicate the state of completion, for example if the red color fills the whole progress line--this means your app is ready to be activated.
To set up Loyalty Rewards and Coupons, see a quick rundown below:
A. Loyalty
Step 1:

Go to loyalty option which is under "

My

Marketing option

"
Step 2: After reading the message, click on the "ok" option to proceed for further settings. Here we are providing two types of loyalty to you one is munchies, which is non-payable, and another one points that are payable to activate.
Step 3: Fill up the fields which you like to provide Munchies to your restaurant by Create an Account, Place your first order, set your preferences, add a profile photo, and submit feedback/review. It is not compulsory to give munchies to all the mentioned options. It is based on your choice and makes them save by clicking on the "Save Loyalty" option. For Example, if you set 50 munchies when you create an account, then the customer will get 50 munchies in your restaurant app/site. Their earned munchies will display on the My Loyalty page. Your customers can view their Munchies history by simply clicking on "view account history", which is placed at the bottom of my loyalty page. To see the full set-up, click here.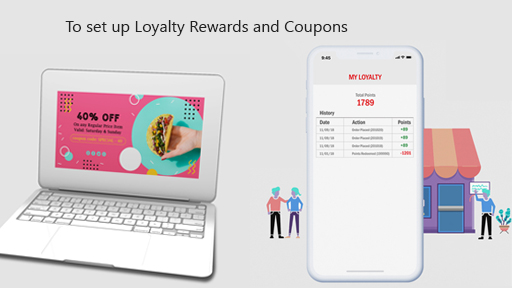 B. Coupons
Step 1. If you'd like to offer coupons to your customers, go to the "My Marketing" page and click on the "Coupon" option. Fill out all the mandatory fields which are indicated with red color star marks.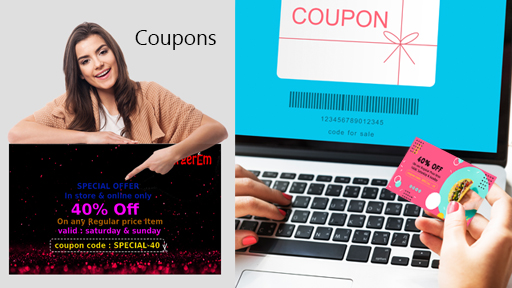 Step 2.  Next, select the respective restaurant location you'd like to offer the discount if you have multiple locations and give your coupon a code and name. (This helps customers identify what exactly the coupon is and redeem it quickly and efficiently.)
Step 3.  If you'd like, you can also set a limit to your coupons and set a max coupon number. If the coupon usage count goes over the limit you set, the coupon will not be applicable. You can also set a minimum order amount and minimum price. This way, if any customer tries to use the coupon with less than the minimum order price, it will not allow it. (This option is not mandatory).
Step 4.  Lastly, set a start and end date that customers can avail themselves to your offer. You can also specify a time (ex. 11:59pm, 2:00pm, etc) if you want to implement exactly when a customer can use your coupon. To see the full list on how to set up your coupons, click here. 
What other features do you think will be helpful in enticing more customers? See some that we missed? Let us know by emailing info@orderem.com