Ship to your customers across the world
Sell more with shipping
How quickly, safely and efficiently a product is shipped and received at its final destination has a strong impact on the customer's experience. With OrderEm, you can take orders online and ship directly to your customers, without any hassles. Grow your online business now.
Try out our powerful online ordering system.
* By entering your email address, you agree to receive marketing emails from OrderEm.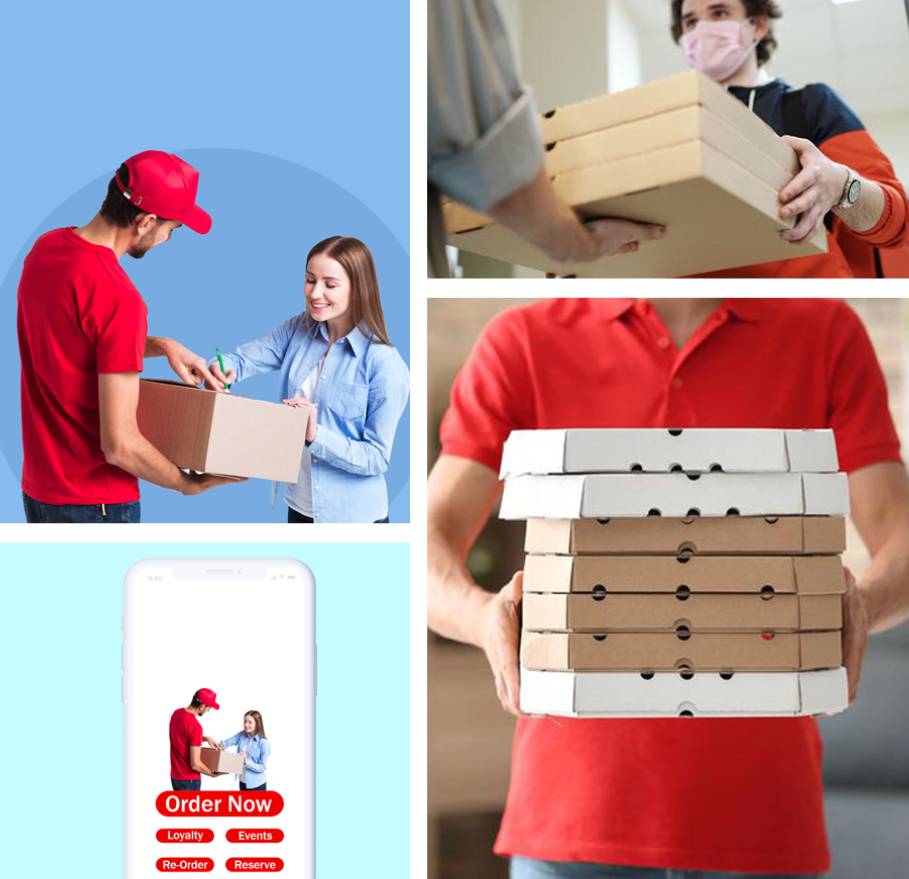 Reliable and affordable shipping solutions from OrderEm
With OrderEm, ecommerce shipping is not just fast and reliable, it's also affordable. We offer you budget-friendly shipping solutions that keep your customers coming back for more. Based on weight or price, you can fix shipping rates that suit your business goals.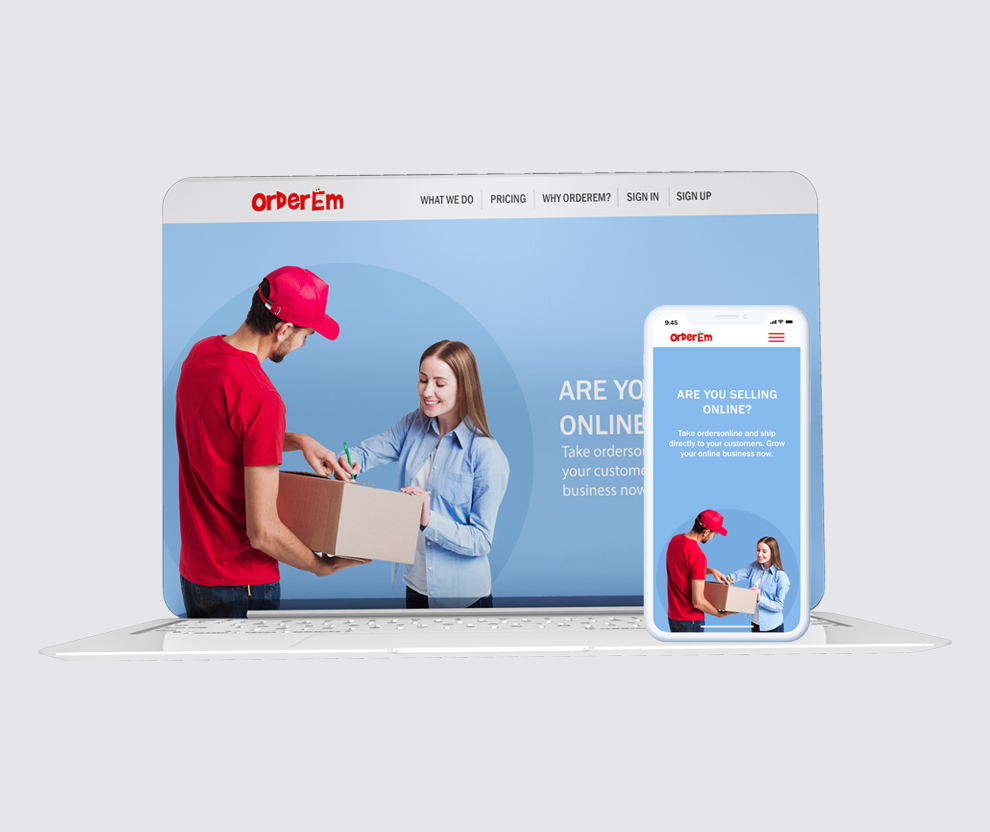 Create online shipping business
With OrderEm, you can easily create multiple online sales channels ranging from online store, custom website and custom app. You can even integrate your social media profiles to generate more sales.
Set shipping zones
Set as many shipping zones as possible with flexible reach and ship to your customers across the world. While creating your shipping zones, mention the estimated time needed for delivering a product to these areas.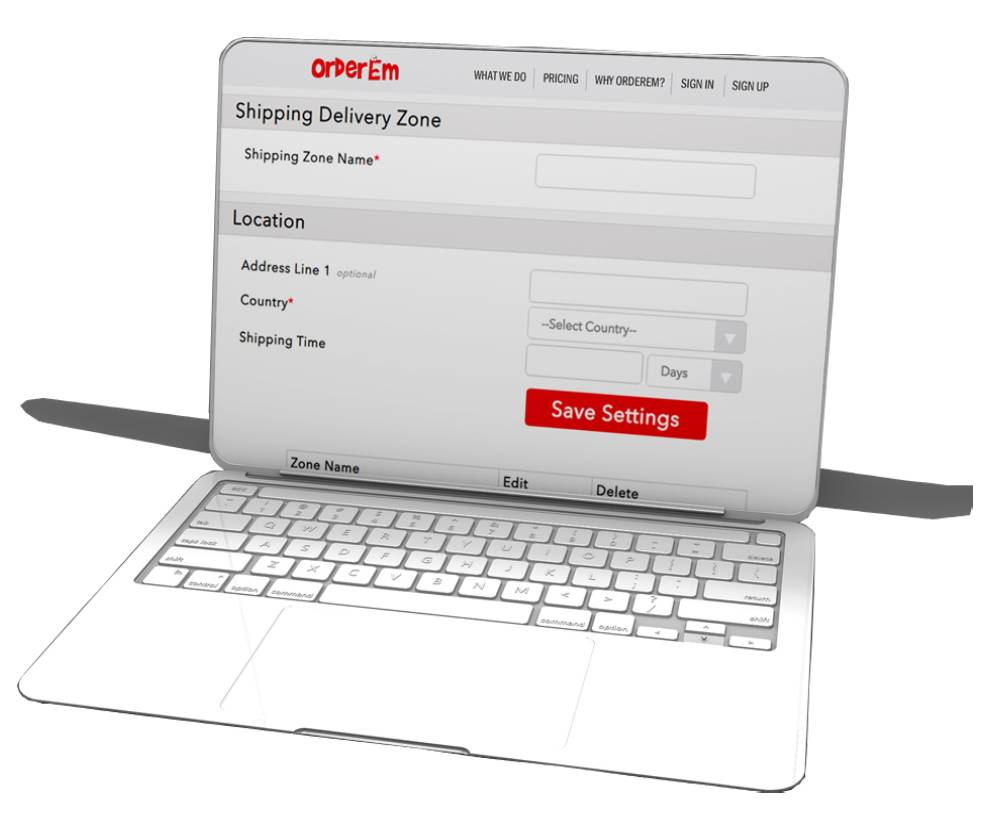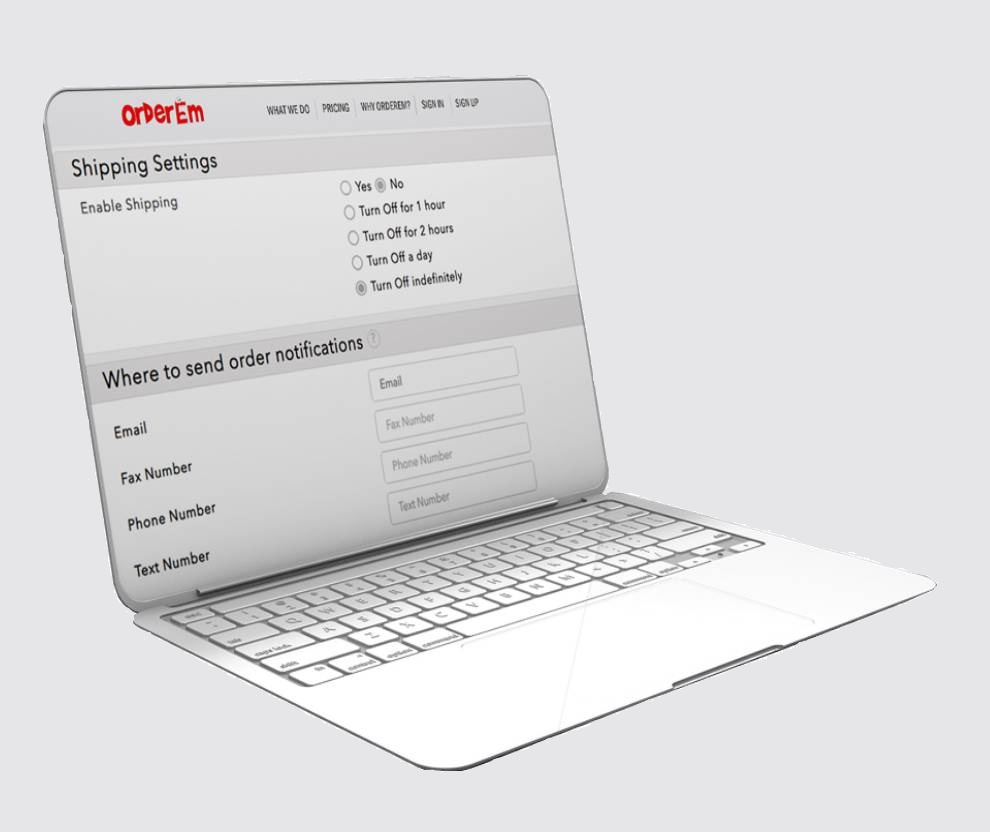 Set shipping charges
Use our settings to configure your shipping charges by product weight, price and speed of delivery range. Get started with our smart online shipping features for fast delivery and save your time.
Get insights from analytics
Behavior analytics deliver insights that support your sales objectives and help improve your shipping strategies. Understanding your customer's preferences more clearly enables you to make smarter business decisions.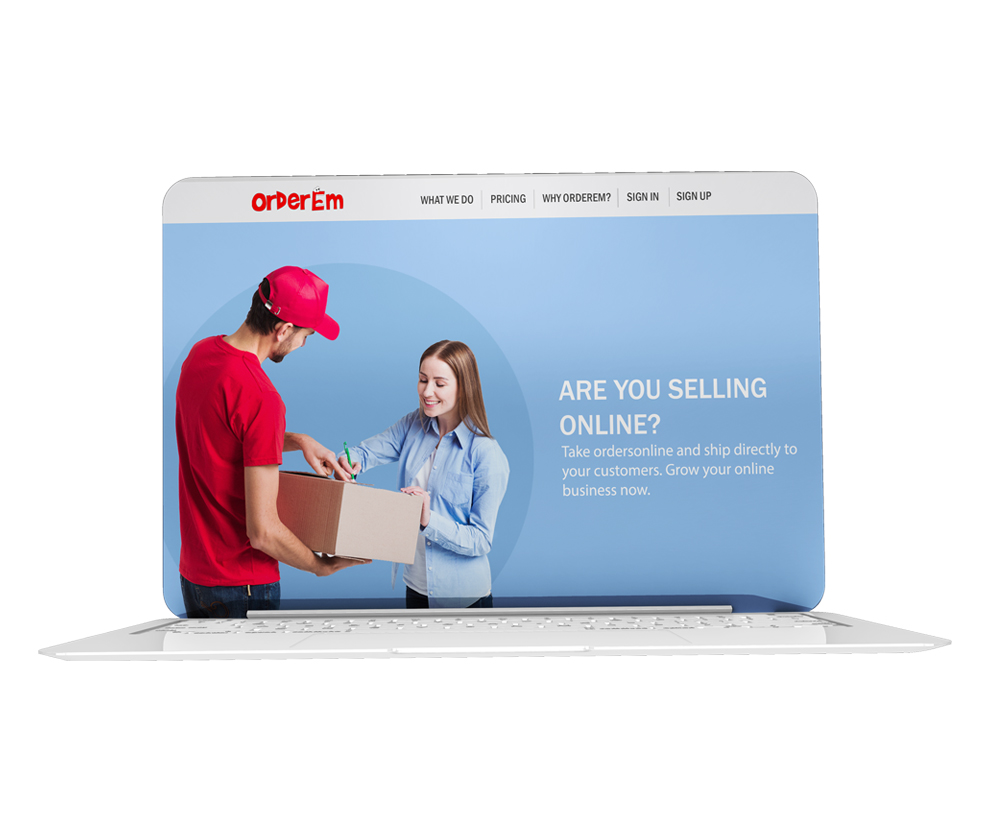 How it works for service staff
1
Receive & prepare the order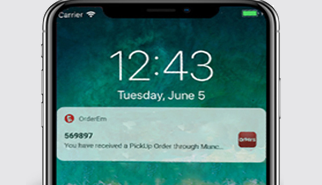 Receive a sound alert notification whenever new orders come in.
Click "Claim" and start preparing the order.
2
Fulfill shipping order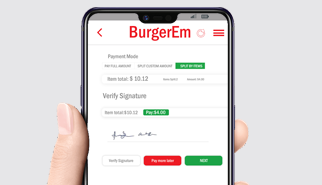 Click "Confirm" when the order is ready for the driver to pick up for shipping.
Customers will also receive a text alert that the order is ready for delivery.
3
Track the driver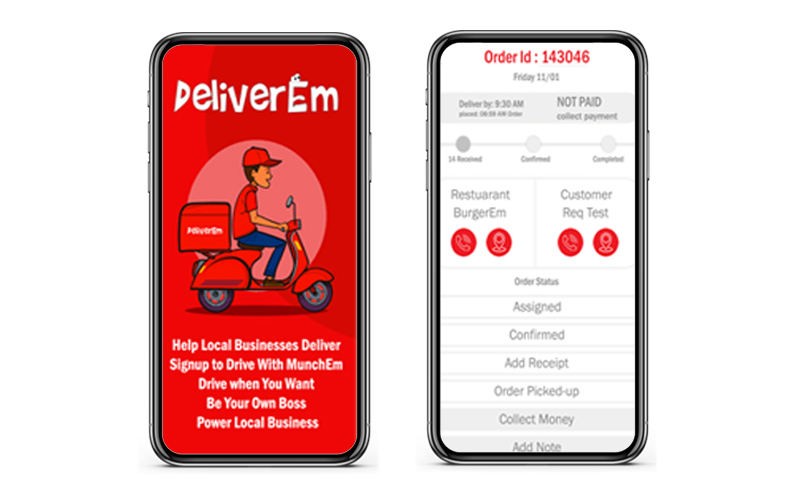 Assign order to the driver whoever is available and ready to pick up.
Track driver performance in real-time of the order.
How it works for shipping driver
1
Receive & deliver orders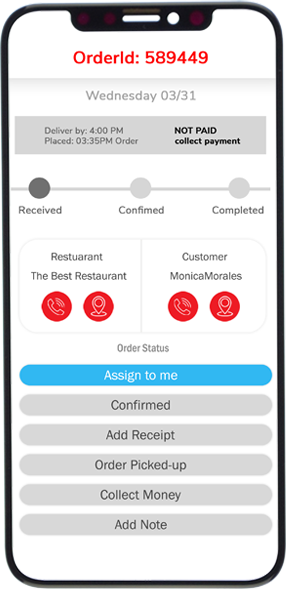 Check-in to the DeliverEm app. Receive a sound alert whenever new orders come in.
Click "assign to me" and get ready to pick up the order.
2
Fulfill delivery order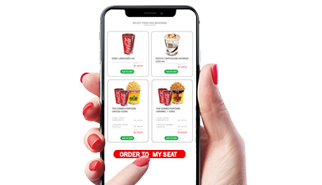 Click "Order picked-up" after collecting the order. Serve at the customer's delivery location with help of our real-time tracking system.
3
Complete the order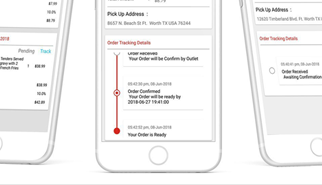 Click on "Collect Money" if the order was in-person payment, or
Click "Delivery Completed" once the order is delivered to the customer's delivery location.
How it works for customers
1
Place orders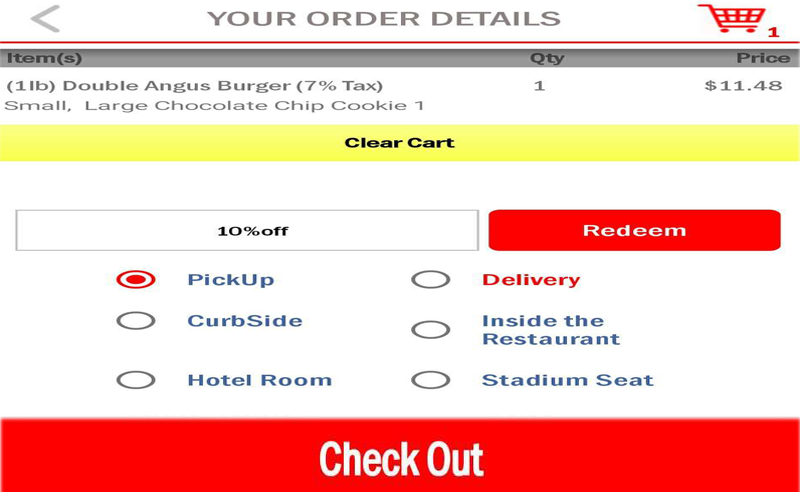 Browse for MunchEm website, or download the MunchEm app (Android & IOS) and search for the location or business to place an order.
Alternatively, if you have, your business website will Browse for it, or download the business app (Android & IOS) and look into the menu to place an order.
2
Make a payment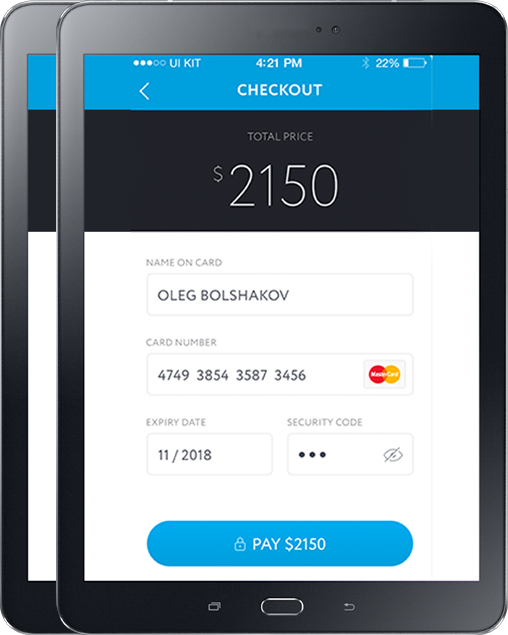 Place an advanced order by scheduling or order instantly looking through the menu to deliver to the location.
Before proceeding to pay, leave a tip of your choice and pay with a credit card or in-person securely in-app/website.
3
Receive orders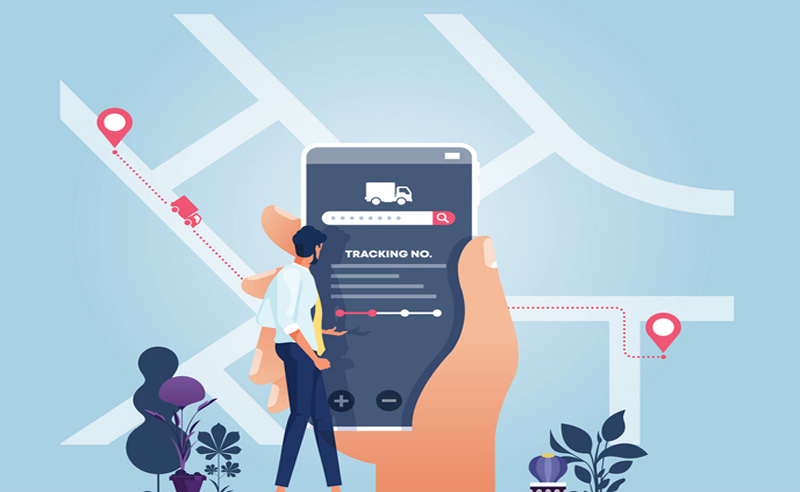 Receive a text alert when the order is ready
Order will get to your designated location that is mentioned to get delivered in discreet packaging.
Need something even more customized?
Hire our experienced developers to create a bespoke solution that truly is unique and showcases your brand. Please join our zoom event to discuss your needs.
What exactly is online shipping?
Online shipping allows customers to have their order delivered to their door without having to get from your store. This is available no matter the distance you like to offer to ship them to your customers.
How does the online shipping management system work?
Once a customer places an order, you will get a notification either through the OrderEm app, phone call, text, or email with: the order details & item details, customer address to deliver, and notes. You or your staff will then prepare shipping items and notify your runners to deliver the order directly to the customer address.
Why should I offer shipping?
Data shows that customers place larger orders and order more when they can still stay in their comfortable place and go through all your products which leads to more orders and profits.
Can we expect tips from customers?
Yes, you can expect by simply allowing the tip option from the shipping setting to allow customers to tip to the runners.
How can I get to know the user's additional preferences about their order?
When we are notifying you through your configured choice of notifications either through phone call or email or fax or text message, we will give customer order details, item details, and customer notes which they like to get their additional preferences.
Is there any cash-on-delivery option for shipping?
Our settings allow you to configure so that you have the control. Either you can take cash orders to be paid on delivery or make an online payment required to make it contactless delivery.
Can I turn off my shipping settings or change my settings?
Yes, you can turn off your settings whenever you want. We provide an option for you to turn off your settings at certain hours/days; after that it will turn on automatically. And you can change your shipping settings at any time and save the changes.
Can I configure all my businesses to offer this?
Yes, you can configure and manage all your businesses from a single login and manage the orders and revenue for them. You can also collect and pay them from your account if needed. This way, you can manage runners, track runners and promote your app/website and charge convenience fees to the customers who place orders, and offer free shipping service if may. Just contact us to discuss the details.
Can I track all my runners?
Yes, you can track the runners using the orderEm or deliverEm app system. Charge delivery fees to the shipping or convenience fees.
Start selling with OrderEm today
OrderEm offers you all the resources and tools you need to not just launch your business online, but to achieve the success you have been dreaming of. Get started with a free trial today itself.