Build your own loyalty program
Turn more customers into regulars with the best loyalty program – no punch cards needed. Incentivize customer loyalty and keep them coming back for more!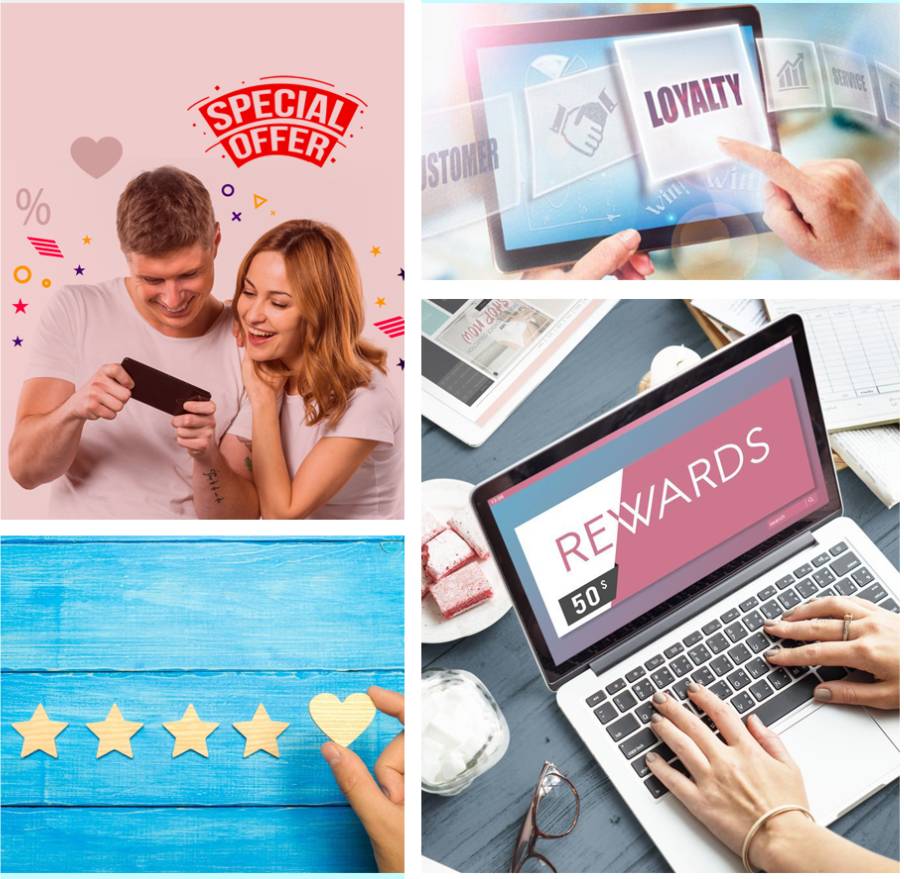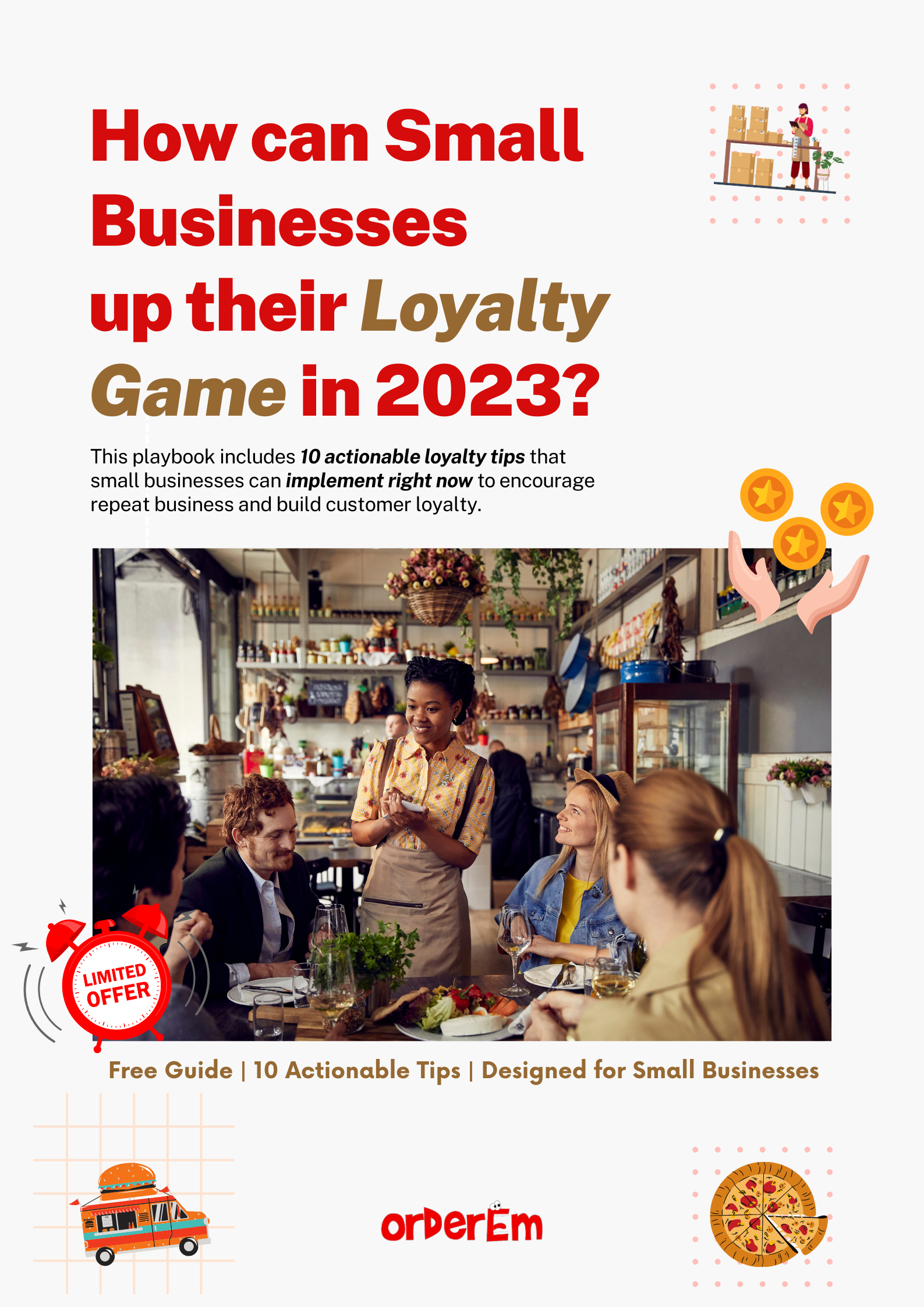 The Ultimate Loyalty Playbook
For fast-growing small businesses.
Increase user engagement for faster growth
OrderEm's free loyalty program can attract customers and encourage them to keep coming back for more. Boosting your customer retention by just 5%, using the customer loyalty programs, can increase revenue by 25 to 95%!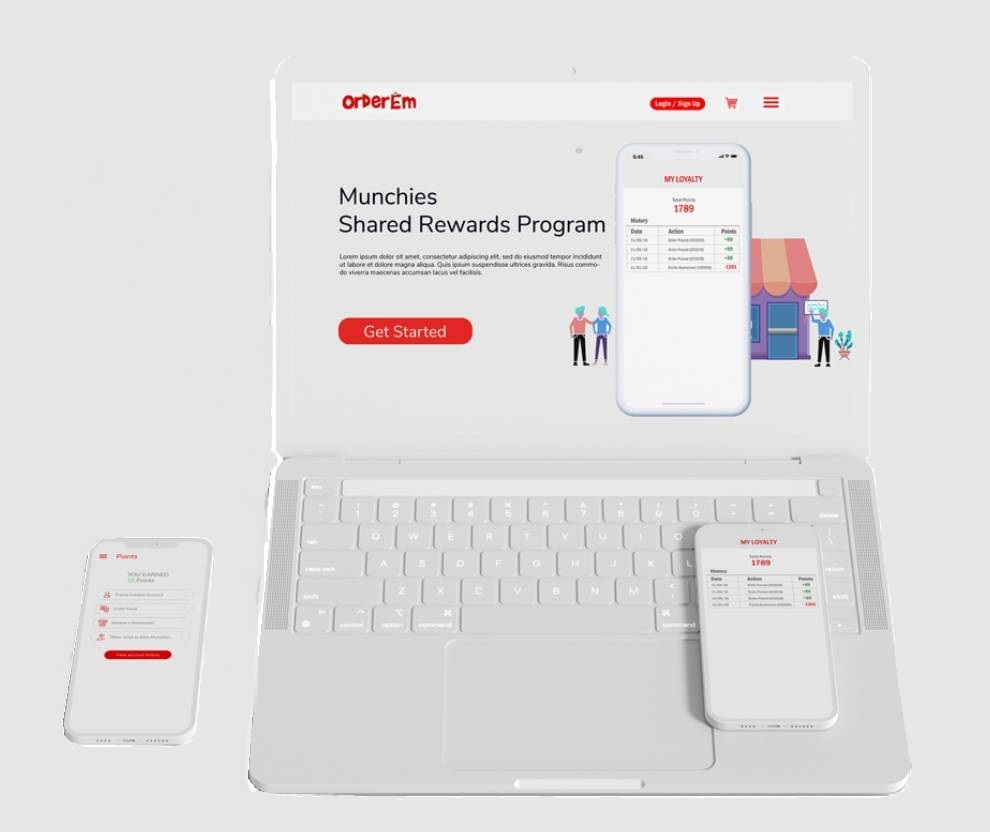 Manage on any device
Use OrderEm's loyalty platform to quickly set up and easily run your program the way you want. Manage loyalty requests on OrderEm.com, as well as, the OrderEm App for both Android and iOS devices.
Cut your marketing costs
A loyalty program is a cost-effective way to retain your existing customers. Build your loyalty strategy around what you know about your customers to reward them and incentivize new behaviors effectively.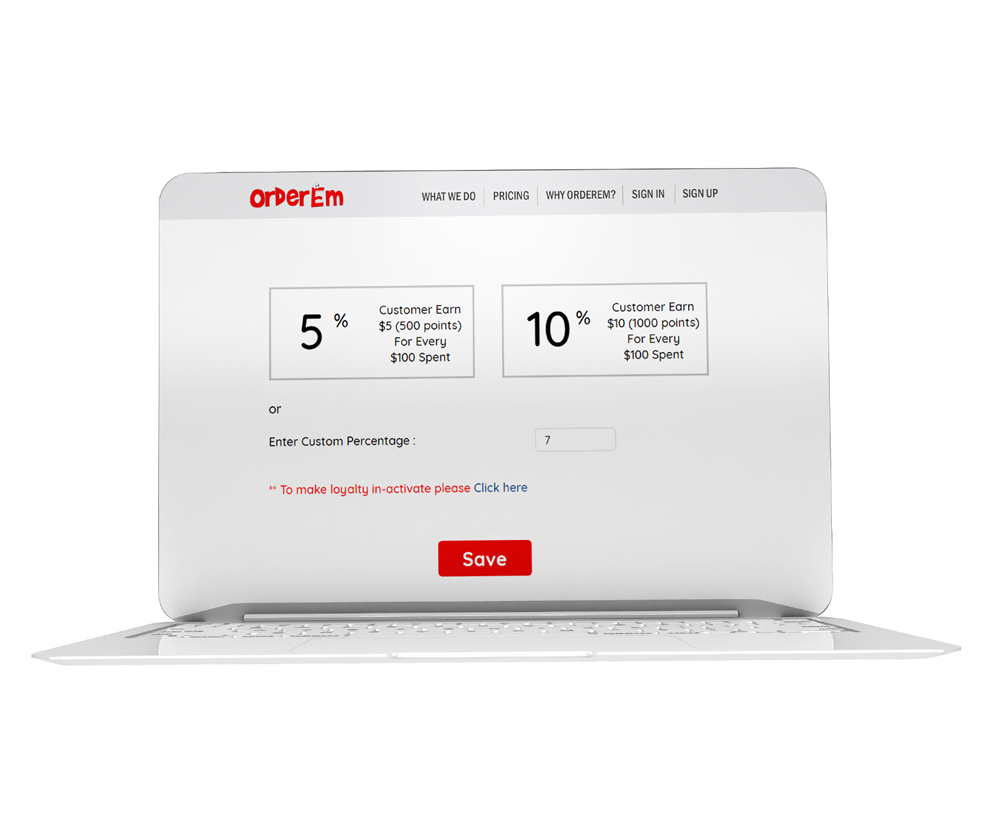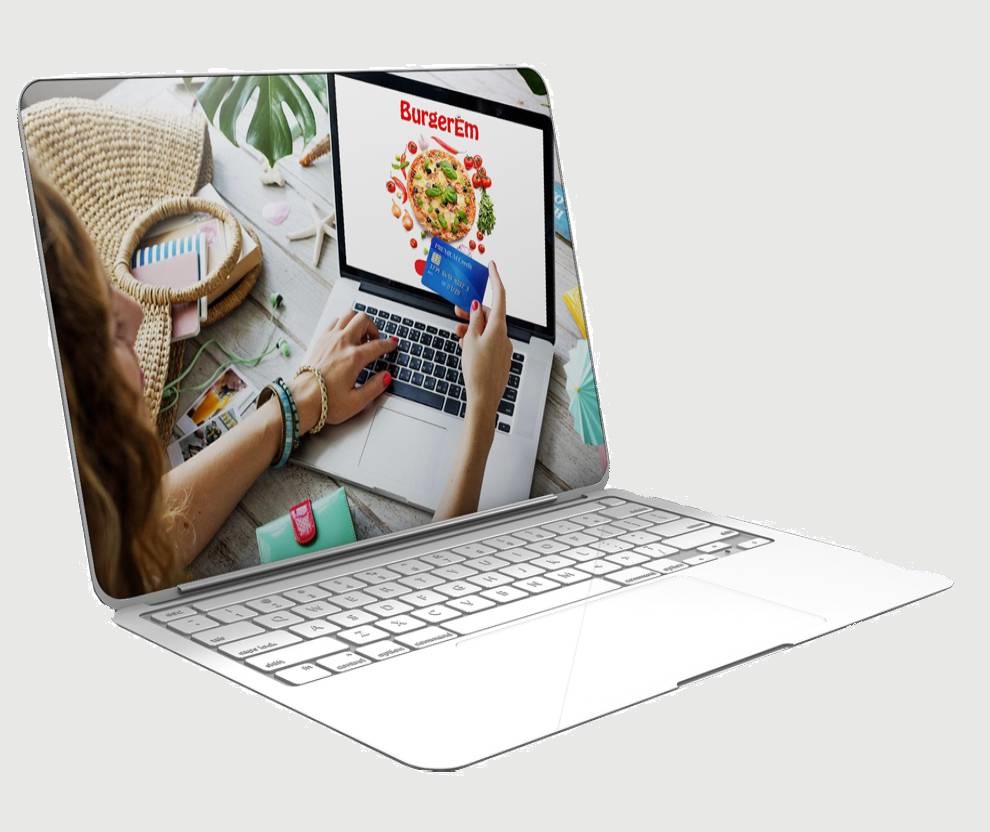 Get more repeat purchases
Your top 20% of customers probably contribute to 70% of your total sales as they frequently purchase from you over a longer period of time. A loyalty program offers them incentives to keep buying from you more often.
Get more customer referrals
Referrals from existing customers can generate 50% more sales as compared to paid advertising. Loyal customers not only purchase more frequently, but they also bring in new customers via word of mouth and friend referral programs.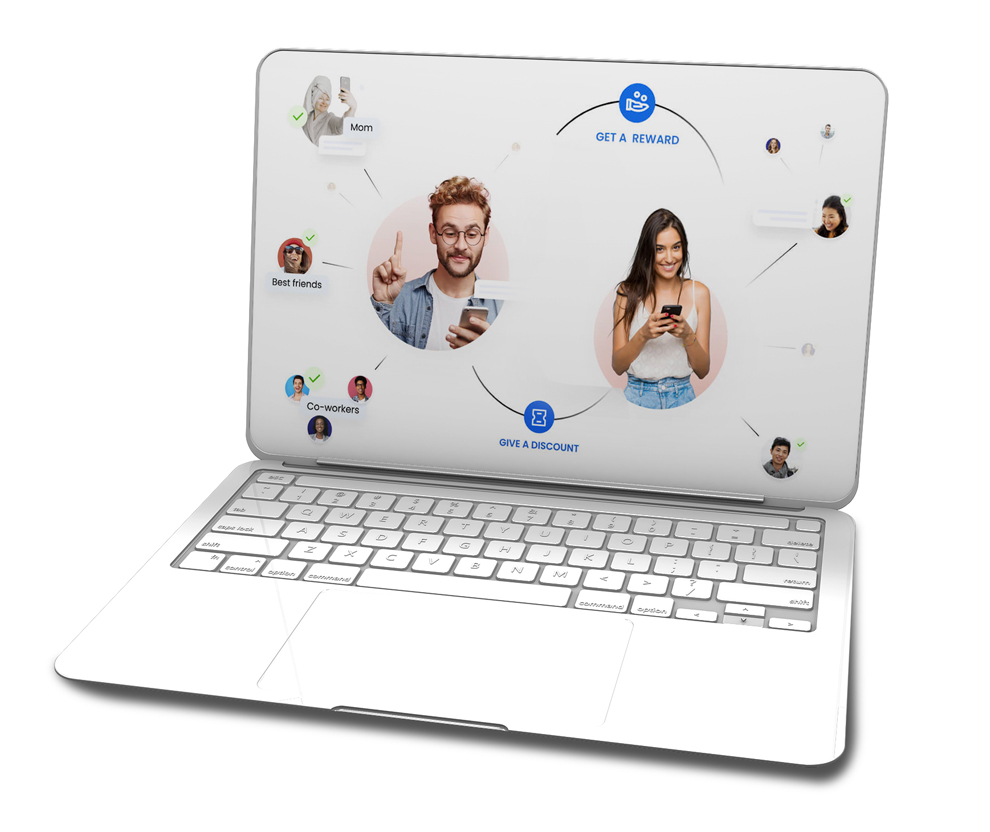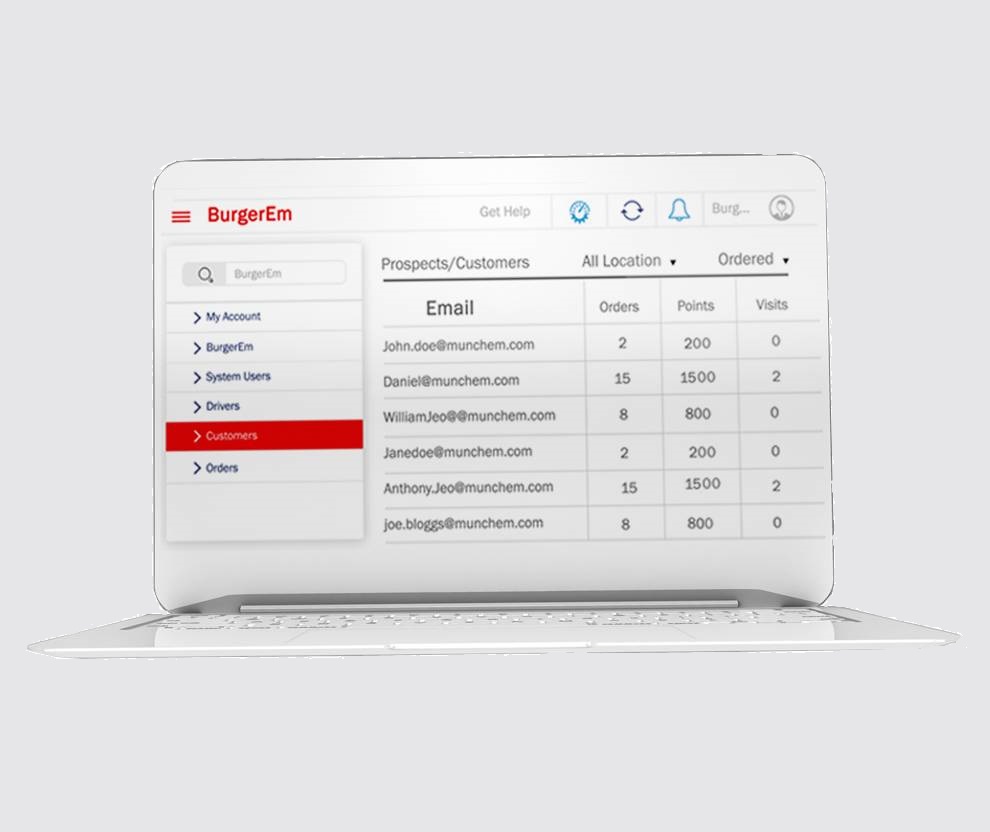 Redeem across any sales channel
Restricting points redemption to online stores only or in-store only can be frustrating for customers. With the help of CRM system data, allow your customers to gain or redeem their loyalty points across all your online sales channels and for in-store purchases.
How it works
1
Set the reward
for loyalty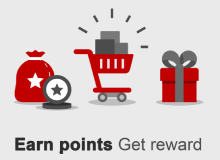 Rewarding your customers is easy now. Simply choose how many loyalty points your customer gets on the total value of an order: 5%, 10%, 50% or more!
2
Customer wins
loyalty points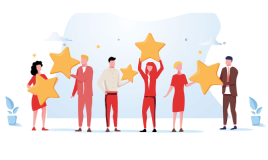 Customers are rewarded with loyalty points for the orders they place. Loyalty points can be accumulated and used together, but they should be redeemed before their given expiration date.
3
Customer redeems
loyalty points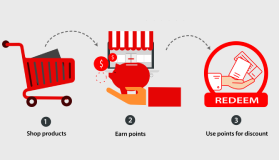 Customers can redeem their loyalty points anywhere across your online store, custom website, custom app, kiosk and in-store
Need something even more customized?
Hire our experienced developers to create a bespoke solution that truly is unique and showcases your brand. Please join our zoom event to discuss your needs.
What is a loyalty program?
In a loyalty program, customers can collect loyalty points on every purchase they make, which can then be redeemed for a reward. This encourages your customers to make repeat purchases helping retain more customers, build loyalty and increase your sales.
Do loyalty programs increase sales?
Customer loyalty is vital for boosting your revenue as repeat customers spend more on each transaction. Just a 5% increase in customer retention from using customer loyalty programs can increase your revenue by 25 to 95%. Loyal customers are more likely to try out new products and give you new customer referrals.
Is loyalty marketing effective?
Loyalty marketing is an effective way to build loyalty and boost sales. According to statistics, 69% of customers admit that loyalty programs influence their choice of retailer. 76% of customers acknowledged that loyalty programs strengthen their relationship with brands.
Why do loyalty programs work well?
If you can make your customers feel recognized and special, you will then win their loyalty and trust. Loyalty programs increase customer engagement with your brand, making them feel valued, which in-turn leads to more sales, referrals and profits.
How can I enroll for the loyalty program?
Your business can get enrolled in the Loyalty Program for FREE.
How many loyalty points can my customers get?
Your customer can earn points for every completed order based upon the subtotal percentage which you set in loyalty.
How can my customers redeem these Loyalty points?
Your customer can redeem the points while placing an order if points are sufficient for the total order. Each point is equal to $0.01.
Start marketing with OrderEm today!
Create your own loyalty programs, eGift cards, coupons, and more to market your business, boost customer retention and increase your revenue.